An Integral Approach to Wealth Management
Wealth is more than money.  We're experts in a leading-edge, comprehensive approach to financial management that addresses personal and material abundance.  By looking at the full picture of what wealth means to you, we empower our clients to create a meaningful, prosperous life.  Learn more about Integral Wealth.
We put our client's needs first, and customize dynamic, evolving processes incorporating a full spectrum of financial services for individuals, families, and businesses.  Our holistic approach to wealth advisement focuses on practical results, sometimes addressing the personal growth necessary to achieve them.  We meet you exactly where you are — and take you where you want to go.  Learn more about our Services.
We're leaders in the field of Integral Wealth Management, sustaining 25+ years in the business.  Our innovative organizational structure puts our entire team's expertise and wisdom to work for you.  We're passionate about providing an unparalleled client experience, and treat each client with utmost care, skill, and integrity.  Learn more about our team.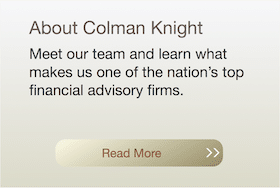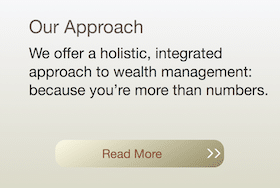 FEATURED ARTICLE
Declining Deficits

America's budget deficit is ballooning out of control, right?

As it happens, while Congress and certain pundits scream that we need to cut government spending, analysts are discovering something surprising: the U.S. government budget deficit this year and next appears to be shrinking…

Intrigued? Inspired? Want More?
Subscribe to receive our bi-monthly mailings with expert perspectives on the economy, current events, wealth management, and more.